Sell your stuff quickly for the best price
Try us now, its completely free

---
Its Back! Win a Vallejo Paint Set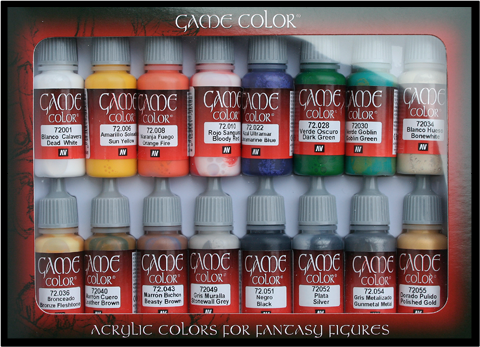 ---
---
Welcome Wargamers, Collectors, Painters!
An exciting new community site for exchanging, finding, gifting, buying and selling miniatures.
Welcome Sellers and Retailers!
Tired of being charged fees for selling?
A unique and completely free to use site. There are no fees for selling. We provide hassle free selling and support all major cards and PayPal.
Our marketplace is simple and easy to use and always free to list and sell
We have created Shimrod Exchange to support hobbyists, artists and independent miniature sellers.
We aim to be the friendliest, fairest and easiest way for lovers of miniatures gaming to get together and share their passion.
---
Shimrod Exchange is a miniatures market. We are a great place to buy and sell new and used miniatures and other wargaming products.
We are also a peer-2-peer marketplace meaning we bring people together to exchange miniatures and services.
We hope you love it and we welcome your feedback.
If you have experienced other sites such as eBay we think you will find our site easier and simpler to use. Plus its absolutely free.
Out market attracts dedicated customers who love collecting miniatures. We focus our efforts entirely on wargaming and this means the right people for the right products.
---
If you are looking for that elusive miniature you need to finish your collection, or for that perfect, mint condition game, Shimrod Exchange is the right place.
At Shimrod Exchange we specialise in collectible miniature games.
Here you could find the person that has the miniature you're looking for. Or you can let them find you and get in contact through our direct user-to-user messaging.
You don't need to keep trawling through forums.
You can list what you have to trade or sell and also list what you want to find. We'll keep you posted on new stuff and help the right people get connected to you.
For more information and some advice on trading collectible miniatures using Shimrod Exchange, click here.
And don't forget to spread the word and tell all your friends and colleagues about Shimrod Exchange, so that all miniatures for trade get listed here.
---
Create the Perfect Listing
Photo's are the most important element. A great photo will dramatically increase the likelihood that someone will get in touch. The whole site is designed around making an impact with a picture. Each listing can have many, many photos.. but make sure the best one is the first one in the list. This will be used for your main page display.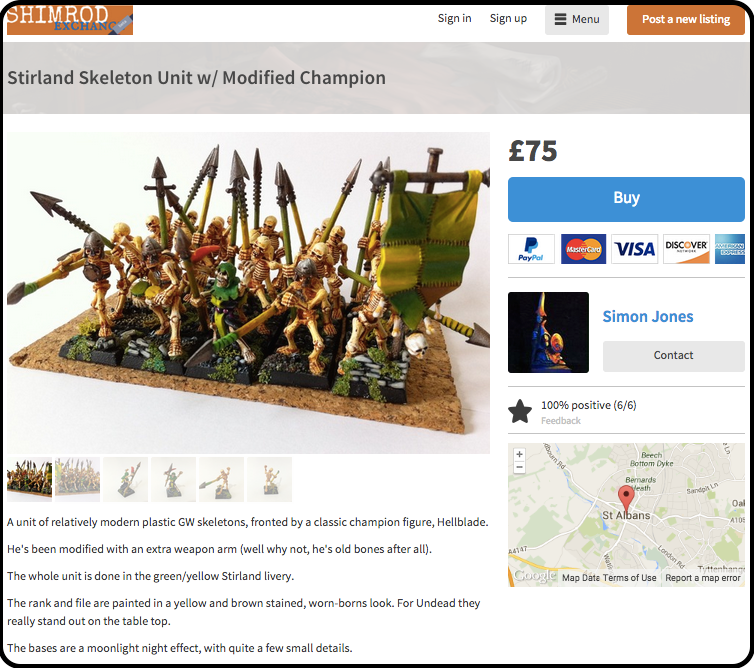 Set the right price. The most effective way to sell is to create a good impression and build a good reputation. The fastest way to lose your reputation is to overcharge.
Include as much detail as you can in your listing. Our beta feedback showed that the more detail, and the more upfront your information, the more likely you are to be contacted
If you have additional terms, please state them clearly in the box provided.
Create one listing per product(s). It is much more effective to have separate listings for each product that trying to combine them into a single listing. You can create as many listings as you like, and all will appear in your Profile section.
Pick the category for your listing carefully. Placing products in the right groups makes searching easier for users. Putting the wrong types of products in the wrong groups creates a poor impression.
Use your real name. Users are far more likely to respond to a person than a nickname.
Add you location to the listing. We have a cool feature whereby users can see your listing via a map. This has proved popular so take advantage of it. This can also help avoid unwanted enquiries when, for example, you do not ship outside of your country.
Use your Profile page. Make sure you put as much detail as you can here. This is your 'shop front, and this will be visited by users.
Who you are, what you sell and any details that are relevant to all sales. You can add hyperlinks to your description. Make sure you use the full URL i.e. http://mysite.co